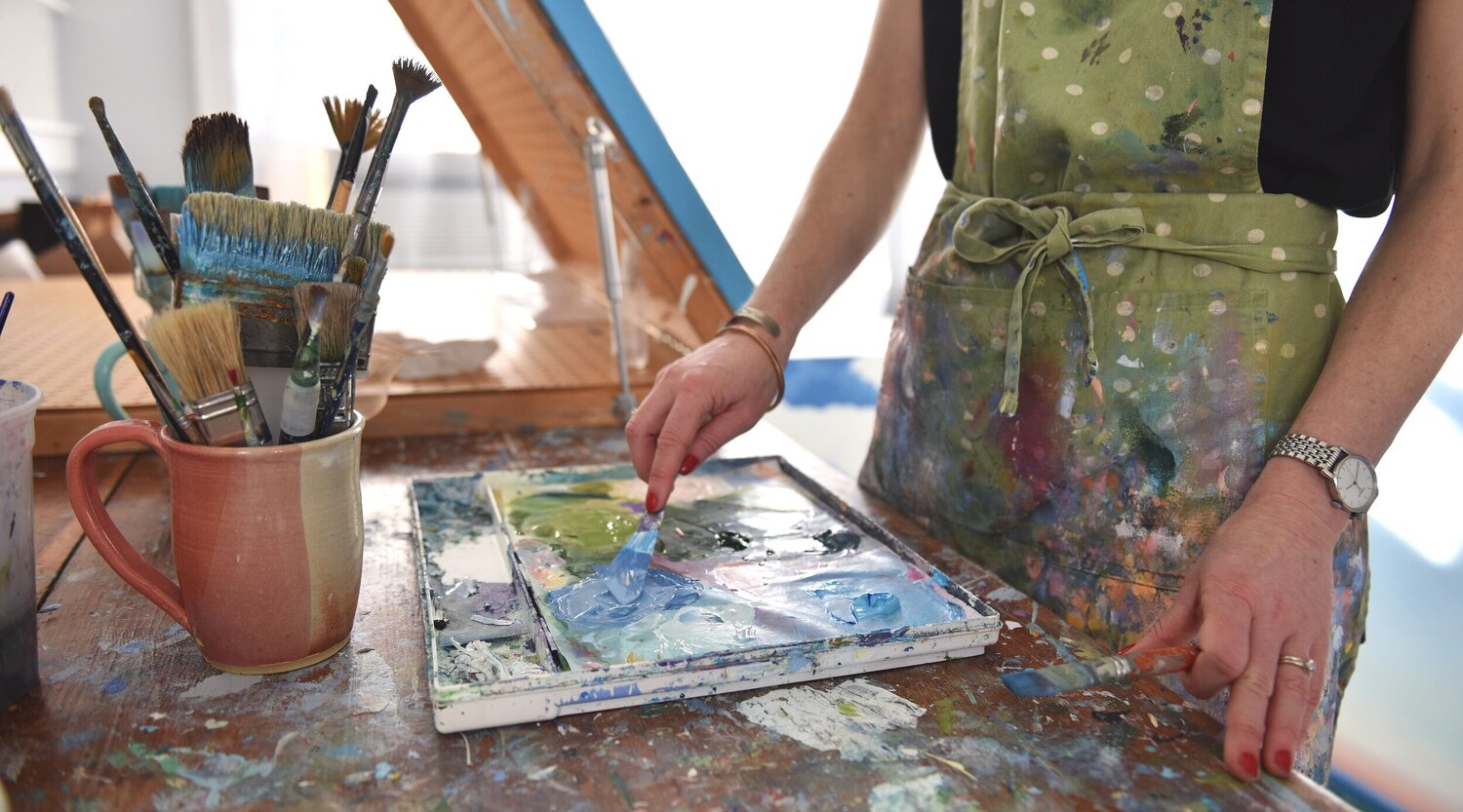 I am so pleased to be able to share my love of painting with people all around the world. Whether you have never picked up a paint brush before, or love to paint and want to learn from someone new, the classes are designed to be both educational and fun.
The first three classes teach skills and there are two classes in which we paint a whole scene from start to finish.
It was so relaxing to learn and paint. The way you teach is so approachable, I'm enjoying it immensely and can't wait to do more.
You are very concise, clear teacher! Loved it, thank you!!
I have loved your classes! You are such an incredible teacher! I have done so many online classes but, never one with such great instruction!!
I love how your videos show the whole set up with the palette and supplies. It's all the little tips along the way that's so meaningful.
In this class we'll learn how to use different types of brushes and a palette knife and how to mix and apply paint. We'll learn the color wheel, including primary and secondary colors. We'll also learn about complementary colors and their useful attributes. We'll also learn about shades and tints. If this all sounds familiar to you, it could be a great chance to brush up on the fundamentals.
In this class we'll learn the multiple ways to convey distance and perspective in art. We'll also talk about how to develop a visually intriguing and successful composition.
I love painting clouds and in this class we'll learn how to paint multiple types of clouds, using all the techniques we have been learning.
In this final class, we will put all our new skills to use to paint a full landscape painting. There is a sunrise option and a summer day option.
Frequently Asked Questions
Classes are pre-recorded videos that I send to you via email. That means you will be able to download or stream them any time you want. Additionally, this allows you to pause and rewind the videos as much as you need.
The classes are available now!
The videos are yours to keep; just make sure to download and save the PDF that comes with your purchase. This PDF has the links to the videos. The videos are hosted on Dropbox; you can stream them or download them to your computer.
The skills classes are an hour each and the full scenes are approximately two hours each.
Definitely not. The classes build on each other, but you can just take the one(s) you're interested in. The classes are sold separately or you can buy four at a discount.
I will be teaching with (and about) acrylic paint, but you are welcome to use any medium you are comfortable with.
If you already paint at home, I don't want you to feel like you need to buy anything — you probably have exactly what you need and I want you to use supplies you feel comfortable with.
If you don't have supplies at home, I suggest buying the supplies listed below. For your convenience, you can easily buy them all by clicking on this link, which will take you to a shopping cart on Dick Blick's website (where I buy nearly all my art supplies), that is pre-loaded with all the supplies. You will be able to add or remove items from the cart. Just make sure to choose one of the paint sets from the list of recommended items.
Paint: I would like you to have the primary colors (red = cadmium, blue = cobalt, yellow = cadmium yellow or hansa yellow medium) as well as white and black. I have found two sets that will work and you can choose one based on your budget and your goals for the class. Here is a set of student-grade paints that will work and here is a set of of professional grade paints. The professional grade paints will be thicker and provide more opacity. The colors will also be richer.
My favorite, professional quality paints are Golden heavy body acrylics and Liquitex heavy body acrylics.
Brushes: You will need a flat/wash brush that is at least 1" wide, a small angle shader brush or wash brush (1/2" or less), and a small brush, called detail, liner or rigger. This set will work fine. If you have a 2" nylon brush for house painting, grab that too.
Painting paper: We will paint on paper for the first three classes. One 9"x12" pad of this paper will be enough. If the paper is out of stock, just use any heavy-duty paper. Card stock or even cardboard will likely work.
Canvas: For the full-scene classes, I will be painting on a 12"x12," 1.5" deep canvas. You are welcome to paint on whatever surface you would like.
Additional supplies you probably have on hand: Paper towels, plastic cup for water, paper plates for palette, newspaper or garbage bag to protect your table, spray bottle to keep paints wet, pencil, straight edge (can be a ruler or a book).
If you are a more serious painter or are planning to really get into it, I recommend the Sta-Wet palette to keep your paints workable for multiple days or even a week.

*Please note: These links are affiliate links, meaning that I earn a small commission if you make a purchase.*
Not at all. And the great thing about these videos being pre-recorded is that if you ever want to spend more time on part of the lesson, you can just pause the video!
You're right, I don't teach often, but I have taught many times — a gym full of 50 boisterous 10-year-old girls at a YMCA camp, one-on-one with a friend, intimate workshops with wine-fueled participants, and everything in between.
I think the classes will be best for middle school and up; however, if you have a slightly younger kid who is really into art and can stay focused, he or she will probably do alright. The classes are perfect for middle aged and retired adults looking for a new hobby or finally making time for an abandoned interest.
No, I am sorry. All purchases are final — just like seeing a movie you don't like or deciding you didn't like a book when you get to the end.
Buy the classes and Start Learning Now!